Resveratrol 4 Health Effects In One Component
Science • December 10, 2021 • 6min read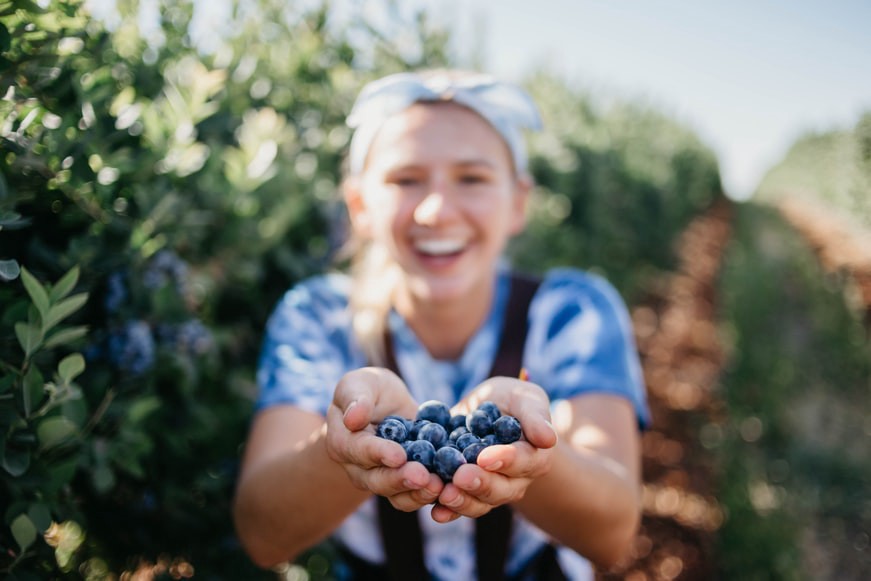 Sirtuins are the most important proteins which regulate cell homeostasis and help fight age-related diseases. As we age the level of Sirtuins significantly decreases in our bodies, which causes the development of neurodegenerative diseases. For this reason, it is important to maintain a high level of Sirtuin activators.
After considerable research and observations, resveratrol is believed to be one of the activators of Sirtuins. Resveratrol is responsible for healthy aging and can prevent cancer, inflammatory, neurodegenerative, and cardiac diseases.
What Is Resveratrol?
Resveratrol is a chemical compound that belongs to the phenol group. More than 70 plant species are considered to be natural sources of resveratrol. It can be found especially in grape skin and seeds. Red wine, grape juice, whole grains, tea, and roots are also rich resveratrol sources. Resveratrol also protects plants from bacteria or fungi. Two forms of resveratrol are found in nature- cis-resveratrol and trans-resveratrol. Trans-resveratrol possesses a very high antioxidant potential.
Renaud and De Lorgeril were the first scientists who relate wine resveratrol, to the potential health benefits such as improved blood pressure in regions where red wine is produced. David Sinclair, a professor at Harvard University, believes that resveratrol works together with Nicotinamide Mononucleotide (NMN). Resveratrol is needed to activate the Sirtuins, while NMN is needed as the energy to keep the properly Sirtuins activity. The combination of NMN and resveratrol supplements has a positive effect on Sirtuin's activities. Activation of Sirtuins is crucial for healthy and quality aging.
Resveratrol And Longevity Genes
Numerous studies reported the important role of Sirtuins in longevity. Sirtuin activity in mammals can regulate many processes, such as gene expression, cellular metabolism, cell death, DNA repair, cell cycle, reproduction, and immune response.
Several natural molecules have been identified which can activate sirtuins. Resveratrol is the most potent natural Sirtuin activator, which has also been demonstrated to prolong the life of cells. In yeast, resveratrol increases DNA stability through Sirtuin activity and extends lifespan by 70%.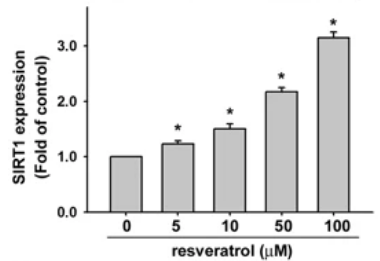 In 2017, the study examined the effect of resveratrol on Sirtuin expression. It was observed that sirtuin expression was directly dependent on resveratrol dose (Figure1).
Benefits Of Resveratrol
In preclinical studies, trans-resveratrol has been shown to possess numerous biological activities, which could be applied to prevent or treat cancer, cardiovascular disease, and neurodegenerative diseases. Resveratrol has antioxidant properties and protects the body from inflammation. Sirtuin 1 is involved in most of these processes, and its activator is resveratrol.
Anticancer Effects
Resveratrol has anti-cancer properties. Scientists have found that resveratrol acts through the Sirtuin 1 pathway. The researchers studied mice that had tumors of the same size.
Mice were divided into three groups, the control group, the 50 mg/kg resveratrol group, and the 100 mg/kg resveratrol group. After 30 days there were measurements of tumor sizes. The results of the study showed that the group treated with 100 mg/kg had almost 10 times smaller tumors than the control group (Figure 2). Mice treated with resveratrol also did not gain weight. This means that the drug is not toxic to the body and has anti-tumor properties.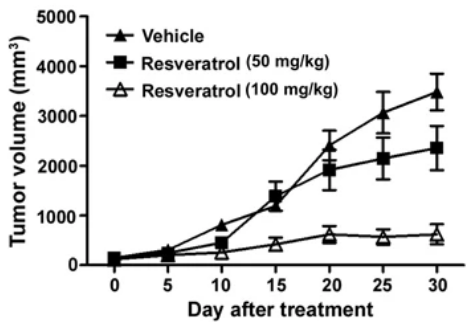 However, one of the biggest problems with cancer is that cancer cells are immortal. Many studies showed that resveratrol can activate cancer cell death mechanisms in the breast, colon, bladder, myeloma, and other types of cancers. It has been suggested that resveratrol plays a critical role in the development of tumors and reduces the cancer progress through the sirtuin pathway.
Anti-Inflammatory Effects
Inflammation is the immune system's response to a harmful stimulus such as infection, trauma, and others. Inflammation causes pain, fever, and can contribute to cancer.
Interleukin-8 (IL-8) and granulocyte-macrophage colony-stimulating factor (GM-CSF) are proteins that are expressed in various inflammations. A study published in 2004 demonstrated that resveratrol has anti-inflammatory effects in lung cells. The cells which were treated with resveratrol had GM-CSF reduced by∼75% and Il-8 by ~40% comparably under control. Authors suggest that resveratrol can be used to reduce various inflammations.
Osteoarthritis is the most common joint disease. In the case of Osteoarthritis, the joint cartilage degenerates and is caused by inflammation. Two major groups of proteins cause cartilage destruction: MMPs (Matrix metalloproteinases) and ADAMTS (a disintegrin and metalloproteinase with thrombospondin motifs) which have an activity to break down the cartilage.
Previous studies confirmed that Sirtuin 1 increases anti-inflammatory effects in Osteoarthritis. High levels of Sirtuin 1 in cells reduce the MMP and ADAMTS protein levels thus reducing the development of the disease.
Cardioprotective Effects
Several studies were performed using mice models to demonstrate the cardioprotective benefits of resveratrol. In most studies, researchers have agreed that resveratrol activates sirtuins which protect from cardiac failure. Some studies reported that mice treated with resveratrol have reduced infarct size. It was also observed that the treatment helped to normalize the blood pressure and heart rhythm.
There is a strong argument that resveratrol also has anti-cardiotoxicity properties. Doxorubicin (DOXO) is one of the most effective tumor inhibitors, but its clinical application is limited due to a major side effect — cardiotoxicity. Taking this medicine increases the risk of heart failure.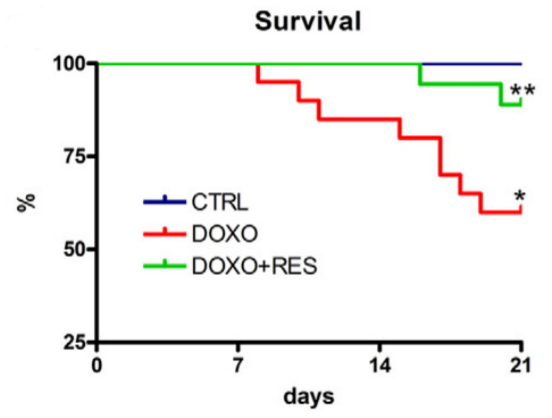 The 2017 study looked at the benefits of resveratrol (RES). The researchers studied 3 groups: the control group, the DOXO-treated group, and the DOXO + RES-treated group. The results of the study showed that the treatment with resveratrol had a significant increase in survival compared with the group treated with just DOXO (Figure 3). Researchers suggest that resveratrol increases the activity of sirtuins, which reduces the damage to the heart caused by DOXO.
Neuroprotective Effects
Oxidative stress is an imbalance between free radicals and antioxidants in the body. This occurs from a fat and sugar diet, obesity, intense physical activity, alcohol consumption, cigarette smoke, and others. Oxidative stress induces neuronal damage which leads to neuronal death. Therefore, antioxidant products such as resveratrol are used to protect against neuronal damage in neurodegenerative disorders, for example, Alzheimer's disease.
Resveratrol was reported in several studies, which show that resveratrol treatment reduced the production of amyloid plaques in the brain, which are responsible for the loss of neural connections. A decreasing level of amyloid plaques is associated with Sirtuins activity which regulates resveratrol.
Conclusion
Researchers agree that resveratrol is the most potent natural compound that can modulate Sirtuins' activities. Hence, it can be characterized to have positive correlations with longevity and healthy cellular aging.
Low doses of Resveratrol do not cause any side effects. Until now, animal models have shown strong evidence that resveratrol has a positive effect on health and can increase lifespan. And also the studies conducted with humans showed high efficacies with an administrated intake of Resveratrol. Although, different opinions among researchers remain about the mechanisms of action of Resveratrol. For this reason, further studies on Resveratrol should be conducted to understand the scale of effects of Resveratrol in-depth, mainly on metabolism and neurological functions.
The safe and effective dose of Resveratrol is 1 g or more per day. The excretion of Resveratrol occurs in the first four hours of intake. For its effective and stable excretion, liposomal technology was added. Each Hello100 Liposomal NMN+ capsule contains 75 mg of Resveratrol. Two servings a day will positively affect your cellular health.