What are Sirtuins and Why are They so Important?
Science • November 29, 2021 • 6min read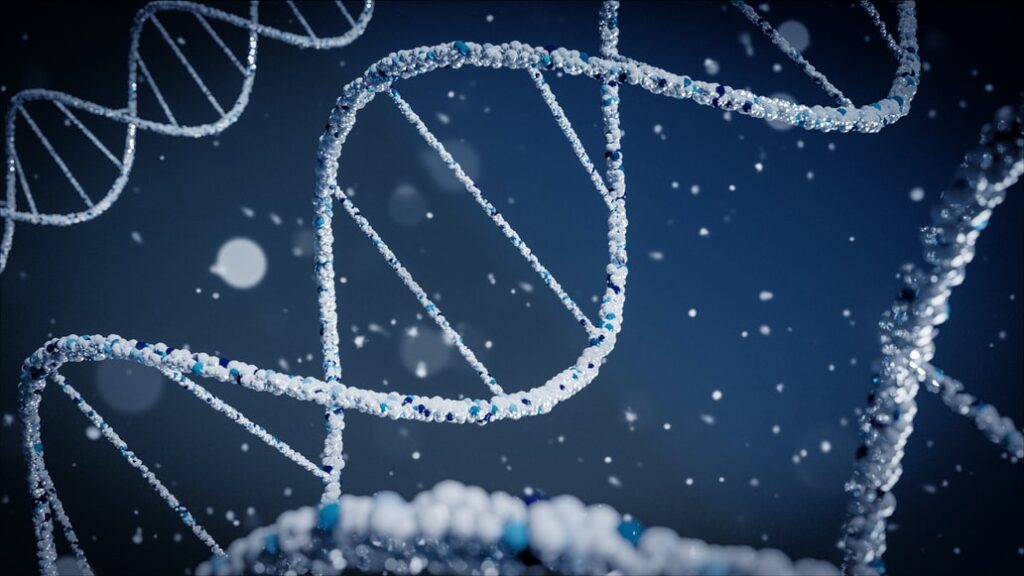 Introduction
Today the rhythm of life is quite intense. Many people spend hours a day seated at desk jobs. Due to the abundance of work tasks, people deal with increased stress, anxiety, and lack of sleep. We often choose a diet that is not well-balanced but is fast and has high levels of sugar. Mentioned factors put stress on our cells, which leaves a long-lasting print on our organism.
As we age, age-associated changes increase in our body, which could cause DNA damage, reduction of cell regeneration, impaired metabolism, and others. During cellular stress, several groups of proteins are activated to reduce cell damage.
One such group of proteins is Sirtuin (SIRT). The fact that these proteins are conservative (almost unchanged over the years) and can be found in all living organisms' cells, from bacteria to humans, signals that they play a fundamental role in all living organisms. As a result, Sirtuins became of great interest.
What Are Sirtuins?
Sirtuins are encoded by the SIRT genes and are NAD+ dependent enzymes, which means that their enzymatic activities depend on the concentration of NAD+ in the organism. Sirtuin gene activity is positively correlated with NAD+ concentration. When NAD+ levels are higher, SIRT activity is also increasing. Sirtuins regulate almost all cellular protein stability by two main processes: Deacetylation which regulates protein production in the cell and the ADP-ribosylation process which changes the structure and activity of the protein.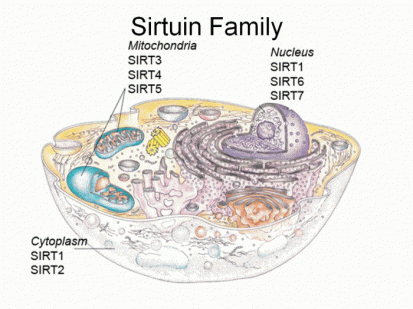 Credits: Denu lab
According to previous studies, sirtuins were accepted as mediators of longevity. The sirtuins are considered in the family because in mammals, for example, humans, there are seven different sirtuins and all these sirtuins have a very similar structure. However, they have different functions, activities, and locations, which depend on the type of cell and cell part.
Mammalian sirtuins are found in numerous compartments within the cell Sirtuins 1, -6, and -7 are found in the nucleus, sirtuins 3–5 in mitochondria and sirtuin 2 is found in the cytoplasm. However, the locations of the Sirtuins are not very strictly defined. It is believed that sirtuin's localization depends on the cell type and cell stress status.
Sirtuins Functions and Longevity.
Sirtuin 1
Sirtuin 1 (SIRT1) is the most studied in the sirtuin family and is associated with improving insulin sensitivity. Studies in mice showed that mice with reduced SIRT1 levels in the pancreas had significantly lower insulin responses to glucose than mice with normal levels (wild-type mice).
Conversely, mice with high levels of SIRT1 had shown better insulin sensitivity and secretion than wild-type mice. SIRT1 interacts with various proteins to form DNA repair mechanisms. Numerous studies show that SIRT1 is associated with the NHEJ (Non-homologous end joining) pathway, which is the main DNA repairing mechanism in mammals and promotes the repair of DNA damage in the cell.
Mice with the extra SIRT1 gene are characterized by lower levels of DNA damage, which can affect longevity. High levels of SIRT1 are found in the heart, brain, and spinal cord, indicating that it plays an important role in fetal development.
Mice without the SIRT1 gene show development defects. About half of the expected number of pups are born and about 20% of them survive to adulthood. In addition, there is strong evidence that SIRT1 reduces protein activities, which are involved in inflammation. However, the level of SIRT1 decreases with age, due to a lower NAD+ level.
Sirtuin 2
There is a lack of information about Sirtuin 2 (SIRT2) and aging. However, it is known that SIRT2 is involved in the cell reproduction cycle. The level of SIRT2 increases as the cell moves into the next cycle of reproduction.
Sirtuin 3
Mitochondria is a cell organelle, which is responsible for supplying energy to a cell. Sirtuin 3 (SIRT3) plays an important role in mitochondrial balance. Studies show that SIRT3 activates a mechanism responsible for the regulation of mitochondrial gene expression. This SIRT3 was the first of the family to be associated with longevity. A 2005 study of Italian seniors found that people with the more active SIRT3 protein live longer than those whose protein activity was reduced or normal.
Sirtuin 4
Sirtuin 4 (SIRT4) is involved in the maintenance of mitochondrial hemostasis. The study examined the effect of SIRT4 on fruit flies. The study compared flies who did not have the SIRT4 gene and could not produce this protein (dSirt4 KO) with wild-type flies who had normal levels of the protein (w1118 control). The results showed that the absence of the SIRT4 gene reduces life expectancy by 17–28% (Figure 1).
The absence of SIRT4 affected glucose regulation too, and higher glucose tolerance was observed in protein-deficient fruit flies. The study suggests that SIRT4 regulates mitochondria processes required for better cell survival.

Sirtuin 5
Sirtuin 5 (SIRT5) is one of the least studied proteins in the family. It is known that the highest level of this protein is in the brain, heart, liver, kidneys, and muscles. However, until these days, little study has been done and it is not clear what important factor it contributes to.
Sirtuin 6
Sirtuin 6 (SIRT6) is also called the longevity sirtuin. This protein has received the greatest interest in the context of longevity. SIRT6 is associated with DNA repair, genome stability, and the homeostasis regulation of glycolysis. The first evidence that sirtuins can be involved in the regulation of mammalian aging came from mice without the SIRT6 gene.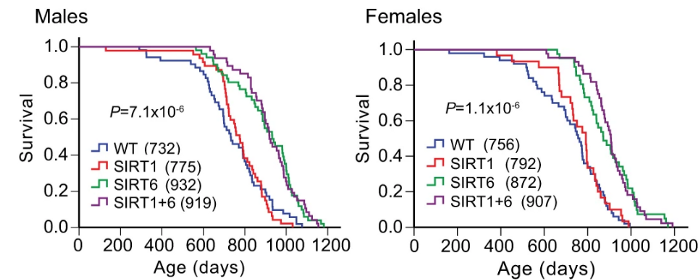 Studies show that mice without this protein had increased glucose uptake and low levels of IGF (Insulin growth factor) which plays an important role in newborn growth, for this reason, the newborns were smaller and more often did not survive compared with wild-type creatures.
More recently, an article was published in which the increased levels of SIRT6 in the mice were studied. Scientists compare these mice with wild-type (WT) mice. The results of the study showed that increased levels of SIRT6 in mice prolonged their lives by 15%- 27%
Sirtuin 7
Sirtuin 7 (SIRT7) is associated with DNA protection, gene regulation, and cell proliferation. Most of this protein is present in metabolically active tissues, such as the liver and spleen. The study conducted on mice compared healthy mice and mice with SIRT7 deficiency.
It was concluded that the survival of mice without SIRT7 was reduced because heart diseases such as heart muscle disorders, and other heart problems related to heart failure increased by 200%.
Conclusion
There is no doubt that the group of Sirtuins contributes to the homeostasis of the body. Sirtuin activity in mammals can regulate many processes, such as gene expression, cellular metabolism, cell death, DNA repair, cell cycle, reproduction, and immune response. These activities can slow down the aging process.
However, some key challenges need to be addressed. Until these days, there is no comprehensive understanding of the exact mechanics of how sirtuins help fight cell stress, DNA damage, or inflammation. It is necessary to deepen the knowledge about sirtuins, which are less researched. Also to gain more knowledge about Sirtuins' operating mechanisms, activators, and benefits to the body.
Researchers believe that one of the most important and promising activators of SIRTs is resveratrol.
Hello100 formula contains liposomal NMN to boost NAD+ and trans-resveratrol to activate SIRTs.